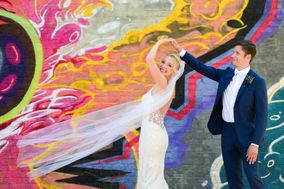 Events By Jesse
Search
(914)772-7157
Please let vendor know you found them on Brides.com
About Us
Events by Jesse is a specialized wedding and event planning company. Customizable experiences may include full or partial service wedding planning, day-of wedding management, and creative concept development.

Using Events by Jesse allows you to directly work with founder, Jesse Reing. Born, raised and bat-mitzvahed in New York, Jesse is excited to offer her services at locally at home, as well as national and international destinations. Jesse knew from a young age that her purpose in life was to help people realize their vision for their most important occasions. Her creativity, precision, and passion for exquisite service are what set her apart from her industry peers.

Jesse has over 10 years of experience in the wedding and event industry. She strongly believes that every wedding should uniquely represent its bride and groom's taste. Working with Events By Jesse means a fully custom wedding that reflects your personal style and leaves your guests wishing the night would never end. Whether you have dreamed of a classic ballroom on the water, a rustic barn with hundreds of candles, or a bare-bones warehouse space that completely transforms into your vision, Events by Jesse promises to fulfill all of your expectations. We look forward to working with you!