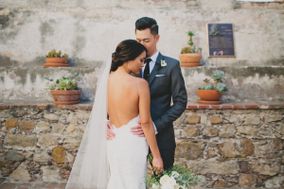 Katie Pritchard Photography
Search
(562)631-9771
Please let vendor know you found them on Brides.com
About Us
Ive got a big heart for people. My family & friends are a special part of my life and I love the feeling of comfort within them. Thats the feeling I try to create for my clients. Growing a relationship that you feel comfortable in so that we, together, can create your amazing and unique story!

My love for photography first began as a teenager my friends and I would scour the city in hopes of finding the best photo spot. After moving to Texas as a senior in High School, my dad took one of his old film cameras out and I fell more in love with creating images. After that, I started to take photography as an art medium more seriously. I went on to graduate from CSUF with a BFA in Photography in 2012.

Weddings became my biggest love after first experiencing love myself. With each wedding I shot, my love grew for my other half. It was an electrifying experience! The couples I photograph are a big inspiration to my work and I feel blessed to be able to experience love as part of my job!

Getting married is one of the best experiences life can offer. Im here to put this chapter of your life into photos that will portray the love you share in a special way!