May 24 marks an important date in history. Yes, May 24, 2014 was the day of Kim Kardashian and Kanye West's over-the-top wedding. But an even more iconic event went down years before. 11 years ago today, Tom Cruise leapt up onto Oprah Winfrey's beige couch and seemingly lost his damn mind. But hey, can you really blame the guy? He was in love after all, and no one understands that better than us.
Anyone recall what film the movie star was supposed to be promoting when he stepped out onto Oprah's set on that fateful day? Answer: War of the Worlds. But it's okay if the name of that little Spielberg film slipped your mind, because on May 24, 2005 Cruise's couch jump took center stage. Love will make you do some crazy things...
All it took was for the talkshow host to bring up Cruise's girlfriend at the time — the one and only Katie Holmes — and her apparent affect on the actor's personality. "What has happened to you?" Winfrey asked. His love for Holmes apparently struck Cruise speechless because he responded by pumping his arms in victory and then threw himself down on one knee in a bizarre display of thanks. "Something's happened to you," Winfrey said again, stating what the watching world was thinking. "I'm in love," smiled Cruise.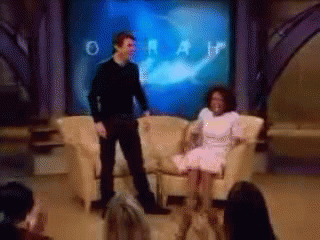 Photo: Giphy
Cue the crazy. Cue the jumping on the (assumedly expensive) couch. Cue Cruise dragging his soon-to-be bride out onto the stage. Cruise recalled their various romantic dates (a motorcycle ride on the beach, rose petals covering the floor of a hotel in Rome, scuba diving...) between furniture leaps. "You're gone. You are gone," Winfrey kept repeating to her seemingly possessed guest.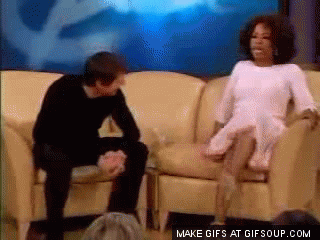 Photo: Giphy
Winfrey then brought up how Holmes once told Seventeen magazine years ago that it was her dream to marry Tom Cruise. "Are you in the dream making business?" she asked the actor. Cruise divulged that an engagement is something he still had to discuss with this sweetheart, but we all know how this story ends. The Hollywood golden couple walked down the aisle in Italy in November 2006, had a daughter, and then split after five years of marriage.
The world — and the couch — never recovered.
See More: Our Favorite Celebrity Engagement Rings